When planning large events, it's easy to get absorbed by the exciting part of pulling together your vision for your event and organizing all the details that will surprise and delight your attendees.
However, it's important not to forget two other critical parts of your event in the planning process - packing in and packing out.
Event operations professionals say the pack in can be one of the most exciting parts because you get to be out on the site, seeing the event you've envisaged for months come to life around you. And, one of the worst parts can be the pack down when everyone is exhausted from the long event days and the adrenaline starts to disappear. Yet, both processes involve juggling a lot of people and logistics, mixed with long hours and the pressure of time always looming. So, being organized and fully prepared is key to getting things done efficiently.
To help you prepare, we've worked with seasoned Event professional and International Triathlon Technical Official, Shanelle Barrett, to identify some of the key things you need to think about to ensure your pack in and pack out go as smooth as possible.
Bear these in mind, and in the build up you'll be able to enjoy seeing your event site come to life. And, post event, you'll be celebrating the success of your event with your team in no time.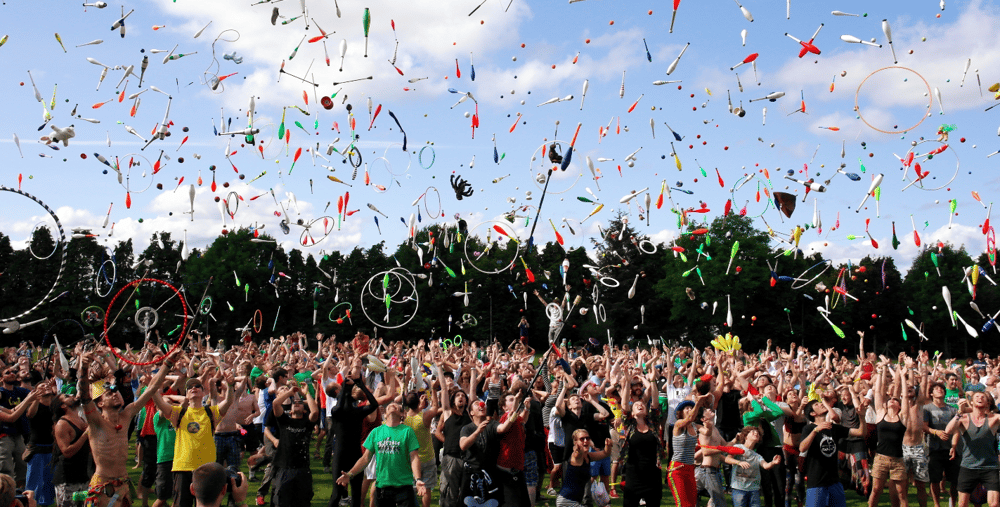 There's a few processes that are specific for either pack in or pack out, but there are also a few things you can add to your checklists for both:
1. Have your lists ready
Speaking of checklists, as an event planner, you probably write lists in your sleep so making one for all the things you need to do for packing in and packing out will probably be no biggie. Remember though, you write them for a reason so make sure you have them to hand in the build up and pack down to ensure you don't forget any of those vital elements. Operations software like Blerter can help make sure you don't miss a thing by enabling you to add, assign and tick off tasks through the app.
2. Register people in and out of the site
This is important for safety reasons. And, from a logistical standpoint, it can help with pulling various elements of the event site together. Blerter has geolocation technology that can automatically trigger check-in and check-out for your team as they enter and leave the site. This helps keep track of who's there and where they are, plus it allows you to communicate with everyone through one channel helping you coordinate the build and dismantling.
3. Have appropriate signage in place
You probably have ample signage ready for event day, but don't forget that you'll have a multitude of different suppliers, volunteers and crew coming to the site in the build up and they're going to need to know where to go and what the key messages/risks are on the site for the day. Having specific signage in place will make your job a lot easier, keep your team informed and avoid you getting asked the same questions over and over again. Making use of technology like the Blerter app and it's alerts, hazards and check-in questions, can also help you with managing this communication.
4. Put rules in place
Make it clear when people can enter the site or do higher risk work like building stages and putting up marquees. It's important that the appropriate PPE is worn, such as hard hats and steel cap boots. During the structural build /dismantling phase the site is considered a construction site and high-viz should be worn at all times, as well as keeping the area safe from public. It's also a good idea to ensure that staff and contractors do not bring children onto the site. By implementing and following rules like these, you can create a safe environment for everyone on the site.
5. Have spare equipment on hand
You might be the most organized event planner on the globe, but that doesn't mean all your suppliers, technical crew and vendors are too. It's a good idea to have spare equipment like trolleys and high vis vests - and even those small things like tie-downs, cable ties, duct tape, velcro, scissors and safety pins - available to use for those that turn up without them. It's amazing what you can fix with cable ties and duct tape.
---
Tips for an efficient "packing in" process
---
You're going to be super busy running around the site making sure everything is in place, that you've completed tasks like your risk register, addressed any hazards, managed any last minute details or changes and much much more. Take a few things off your list by putting the following in place:
1. Have "floaters" around who can answer logistical questions
Have someone in place who knows the event plan inside out, like an event coordinator or another crew member, whose responsibility is to be on hand to answer any logistical questions from those coming and going from the site, leaving you to focus on the big picture.
2. Make time to do briefings
The set up is the best time to get in front of your crew, volunteer managers and partners all at the same time to provide an overview of how the event will be run, key responsibilities, any risk mitigation strategies and of course get them all pumped for the event. Set some time aside in your pack in schedule for these briefings. It will help avoid confusion on the morning of the event and means you can sleep a little easier (in the few hours you get) knowing that people know what their responsibilities are at the event.
And, don't forget the end of day meetings too. These provide a great chance to see whether you're on track with the schedule and to be informed of any incidents or issues that can be addressed before coming onto site the following day. Plus, it ensures everyone feels like they're part of a team and have the chance to provide their feedback.
3. If you're using event technology, have someone around to answer questions
Whether you're using apps to enhance the experience of your event, technology to help with the event operations or zappers for your vendors, have someone available who fully understands the technology to answer any queries or resolve any technical issues. Check out our resource on the technology you can use at various stages of the event lifecycle for the many ways technology can make your job simpler.
4. Set time periods for entering the site
As mentioned earlier, set rules. One of those being the time periods suppliers, vendors, and anyone else who needs to be there can come to the site. The last thing you want is to be hanging around all night waiting for that one last supplier to turn up.
5. Make sure you have security present overnight
With all that equipment brought onto the site, your event could be a target for criminal activity. It's worth investing in security to watch your site overnight - even if nothing hugely valuable is left there, you don't want to risk intruders coming onto the site and disrupting anything. If you and your team are working late onsite consider getting security to come on as the evening starts to get dark, this gives your team some peace of mind knowing there is security onsite watching not only your equipment but also your staff safety.
---
Tips for a smooth "pack out"
---
By this point, you and your crew are exhausted so you want the pack down to go as smoothly and efficiently as possible. It's also the time when safety tends to go a little awry with people trying to get out as quick as possible. Take these pointers on board to help you complete your pack down as quickly and safely as possible:
1. Leave the site as you found it
This is a given, and doesn't really need an explanation. You want to be in a position where - other than a bit of worn out grass - you leave the site for the final time and you can look around to see the picture you saw when you first arrived on the site before the build up; especially important when making a future booking with a venue or council.
You may want to consider getting a new crew to assist with the cleaning up of the site which will save you time and effort. Don't forget to do the Womble check, it doesn't take long, splitting up the site between staff, to do a quick check for rubbish.
2. Check you've collected all the info you need
Photos speak a thousand words. Take plenty and file them away for planning for the next one. This is another area operations tools like Blerter are invaluable because the information is all in one place so you can easily access and use the notes or learnings for next time. Depending on the type of event, you may also want to use drone technology to identify footfall across the event area to help you improve your event site layout next time.
3. Be safety conscious
In the pack down, people are tired and eager to leave the site so management of safety is even more important because it's more likely incidents will happen. Using technology which keeps everyone updated, manages communications and allows you to simply alert people to new hazards, is a brilliant way to keep your risks to a minimum and incidents at bay. It's also a great way to keep everyone updated on progress as there are often time restrictions on leaving a site.
4. Reopening roads and removing signage
If you're running a large outdoor event, it's likely you either shut down roads or, at the least, have various signage scattered around. Don't forget to reopen the roads as per your timings set out in your Traffic Management Plan and remove any signs that are out and about. Ensure you have planned the movements of your contractors who have equipment on the roads, such as fencing. For their safety you need to ensure that you keep the traffic management in place until they are off the roads.
5. Remember you're not the only one that's tired
Your adrenaline is gone, exhaustion is swallowing you up and you've lost all your bearings. Sounds familiar right? Well, how you feel post event is likely to be how the rest of your event crew feel too so make sure during the pack down you have plenty of food and drink available to keep people fueled, send messages to keep people motivated and don't forget to have a quick catch up at the end of the day to celebrate its success. Planning a debrief is important, but that's best left for a few days or even weeks until everyone's recovered.
For more useful tips for planning events, check out the "need to knows" when planning an event and take a look at our resources for more detailed guides and checklists that can help make sure you've got everything covered.
And, if you're interested in how you can use technology like Blerter to help you more effectively manage the build up and pack down of your events, talk to us today.