With fears of COVID-19 hitting the events industry and the mounting global spread, the impact it could have on your event if there were an outbreak is increasing.
Do you have a mechanism to identify everyone who was on-site? Who were they talking to? And who might be at risk? How would you provide information to local health authorities if they appeared on site at your event to find the source of an outbreak?
According to the CDC, COVID-19 is highly contagious and can spread from person-to-person on a continuum. With large events, workforces can expand exponentially in a short space of time and it can be a challenge to communicate and manage every vendor, contractor or volunteer that steps foot into the space.
Most events are focused on attendees, but are you thinking about your crew?
In order to be a responsible host and ensure preparedness and resilience at your event so that you can keep people safe, here are some important questions you should consider:
Before the event
Are you taking precautions and making sure crew members are aware about standard personal preventative measures?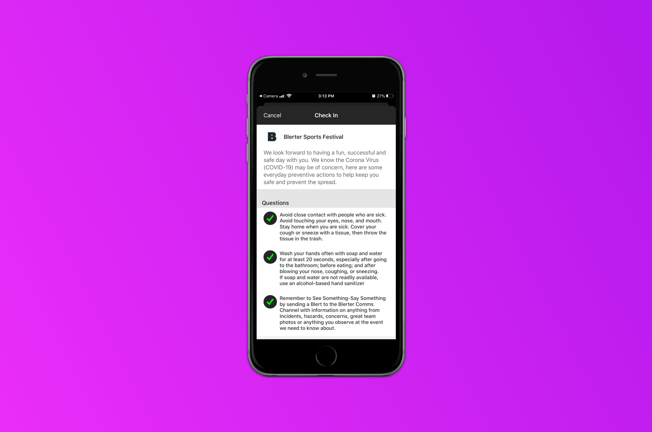 Before the event, encourage your crew to take precautions. Add safety checks upon event check-in, and include recommendations on standard personal preventative measures, e.g. wash your hands with soap often.
Do you have an up-to-date crisis communications plan?
Understanding how to respond in a crisis situation like COVID-19 can help prevent a bad situation from becoming even worse. Download our guide as reference on creating an effective plan.
Do you know who has actually been on-site during event setup?

Keeping people safe on-site starts with knowing who is there. Get peace of mind knowing who has checked in and checked out of your event.
During the event
Do you have two-way communication with your crew and are you able to provide updates on the fly?
Keep everyone informed at all times with two-way communication on Blerter. If someone at your event has been tested positive for COVID-19, send an alert out to everyone immediately.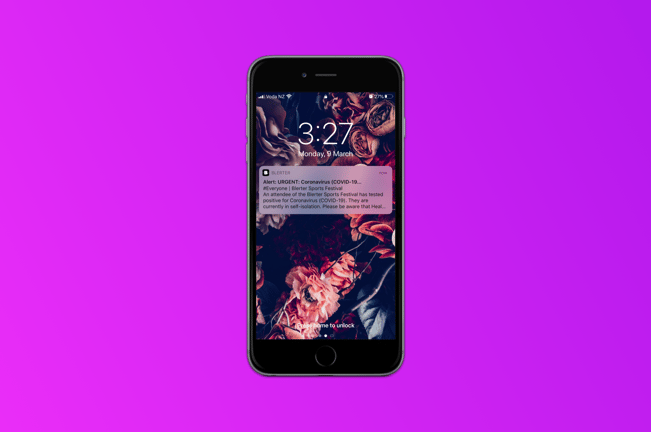 If someone in your crew looks unwell, does your team know what to do?
Things can escalate quickly and it's how you react that matters. Spread the word fast and ensure your team knows where to get help when something doesn't look quite right.
Will you be able to record key information as it happens?
Keeping a record of everything that has happened is important. It will ultimately help you look back and see everything in detail - know what happened, when it happened and why it happened.
After the event
Should a crisis arise at your event and health authorities are in contact, do you have a track record that you can provide?
Everyone has a role to play. It takes more than governments and health authorities to protect the health and safety of everyone.
With everything tracked in one place, event organizers are able to provide key information that health authorities need to do contact tracing and protect the community during an outbreak.
COVID-19 is in itself an event which should be treated and managed as such. For more information on whether Blerter is right for your event, please reach out to us.
If you are planning on using Blerter to deliver your event and postponement/ cancellation is required, we'll be happy to issue credit towards your next event.